HISTORY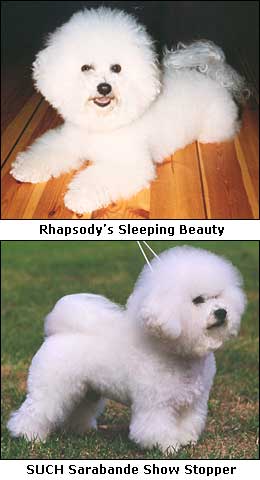 I bought my first bichon in 1983. Her name was " Betty" Rhapsody's Sleeping Beauty and became my first breeding bitch. She had a couple of litters and then my next dog "Poppe" Sarabande Show Stopper made his entry in 1986. The dog's names gave the idea for the kennel's name: Pobe-s. Bichon frisé was quite a new breed in Sweden at this time and it was no obvious choice for me. However, I made up my mind and I am happy to tell you that I do not regret that for a second. Well, maybe a rainy November day when the dogs are out and just have decided to dig a shortcut to China...
In 1994 I bought my first wheaten, Källestad Artemis or "Emma". She was the foundation of our breeding. An Irish soft coated wheaten terrier requires a lot of space and stimulation. Both breeds surely shows that the dog is the man's best friend.

Viktoria joins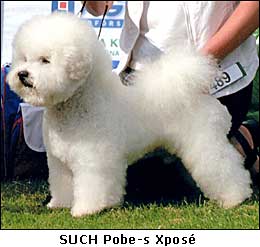 In 1995 I bought my first bichon from Berit, and that is how it all started. The dog was a male, Pobe-s Xposé called Linus on every day basis. He is my fairytale, a dream come true. The fairytale is like the ugly duckling who grew up and became a beautiful swan. When he was young, he was big and chubby and we never even planned to show him at all. We were quite successful in agility and obedience classes. When Linus was two years old we decided to show him and the result came out fine and that made us curious and we showed him some more. A year later he won his champion title in Askersund. In july 2002 he retired from the show ring when he won BIS (Best In Show) for veteran dogs on the biggest outside show in Sweden.
In 2003 I was at the cross-roads. Should I register my own kennel or should I accept Berit's offer and join her kennel? Today, I know I did the right thing and I am very happy to be co-owner of this successful kennel.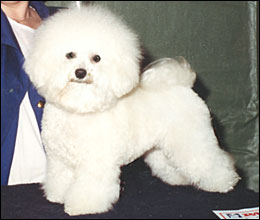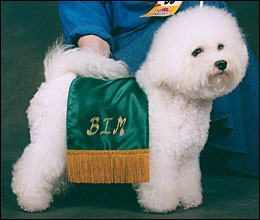 SUCH Mc Coy's Star Wish Pobe-s Yummy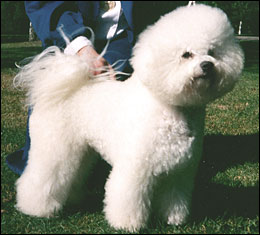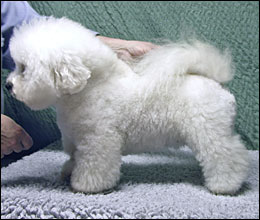 Pobe-s Surprise Bichonettes Evening Sun-Beam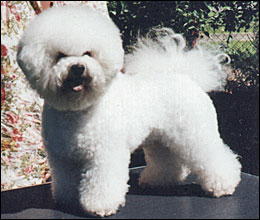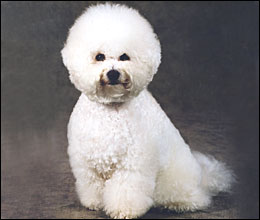 SUCH Pobe-s Betzie Pobe-s Xistensienne Mega Star